Panama City Beach is the perfect location to enjoy a variety of watersports. The crystal clear waters of the Gulf of Mexico provide ample room to travel fast or slow. One of the best ways to travel across the water and still enjoy a close-up view of the water and its inhabitants is on a jet ski. But before you go onto the water, there are some things you should know.
First, if you were born after January 1, 1988, you'll need a boating safety education identification card and a photo ID to operate a jet ski in Florida waters. If you need to get your boating safety ID, you can take the safety test at our marina. You'll also need to be 16 years of age to drive one of Aquatic Adventures' jet skis.
Next, your jet ski isn't foolproof. If you are going to go for a jet ski ride, you'll need to wear a life jacket. You should also know the basics of how to keep your head above water in the event of an emergency. If you aren't comfortable swimming or treading water, then you may want to choose a different watercraft for your Panama City Beach adventures.
You should also be aware that jet skis aren't exempt from the laws of physics. The rule that an object in motion will stay in motion is true of these machines just as it is for land crafts. Your jet ski will keep moving even if all power is cut off. But, without power you'll lose your ability to steer your jet ski. This means that if you lose power while in motion, you craft will keep going in whatever direction it was facing when the engine was turned off. It will take your jet ski some time and distance to come to a full stop. You'll need to plan for this extra distance when moving toward another vessel or bringing your jet ski in for a shore or dock landing.
Speaking of cutting your jet ski's engine, you will save yourself a lot of hassles if you always remember to use a lanyard. Your lanyard attaches to you and the jet ski's key. If you fall off the vehicle the key comes with you, cutting off the engine. Yes, the jet ski will coast for a bit, but having the craft travel a short distance away from you before stopping is far better than having it speed a mile up the coast!
Also, we know speed is fun. Riding a jet ski can be thrilling. But while you're enjoying your ride remember—gravity hurts. Your ability to control your jet ski ends when it leaves the surface of the water. Don't try to jump your vehicle using the wake of boats or other devices. Once in the air, your jet ski could tip over and come down on top you or someone else. Trust us; you can have plenty of fun on your jet ski without trying any dangerous stunts.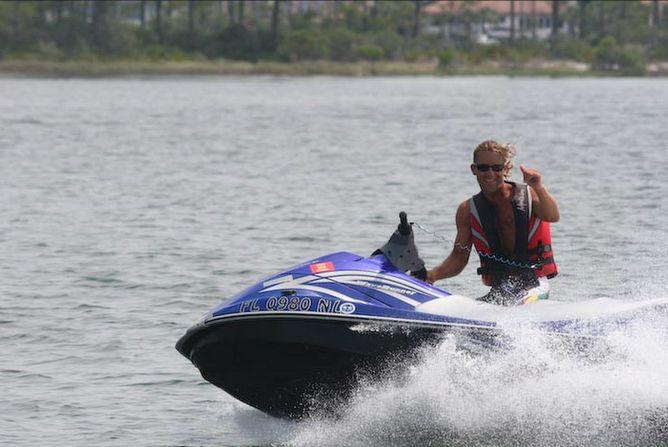 While riding your jet ski, remember that there are a lot of other people out there. Keep an eye out for other water craft and remember you'll need time and distance to steer clear of them. A good rule of thumb it to keep at least 100 feet between you and other vessels. Watch out for swimmers and divers, too. Hopefully, anyone who is diving will put out a buoy to warn you of their presence. But watch out for other signs that divers are nearby, just in case. Avoid riding your jet ski close to popular diving spots or diving tour boats.
Finally, be kind to our aquatic friends. Dolphins, rays, sea turtles, and other sea creatures may approach your vessel when you're stopped or cruising slowly. Or they may be headed at cross directions with you. Try to avoid collisions—neither you nor the sea creature wants to meet by accident! Besides, if you keep a close look out, you'll have the pleasure of seeing these amazing animals in their natural habitat. How cool is that?
Riding a jet ski can be a fast, exhilarating ride across the water, but it can also be a slow cruise to some amazing places.  When you rent a jet ski and chart your own course, you can experience both jet ski adventures. Take some time to enjoy the scenery. Then, speed things up and experience the spray in your face and the wind in your hair. Either way, you'll love it!
For your convenience, Aquatic Adventures has jet skis available for rent near most of the major resorts along the Panama City Beach gulf coast. Just choose your location and pick up your machine. Don't forget your boater safety card and photo ID if you'll be doing the driving. Our jet skis can hold up to 400 lbs. each so you can share the ride. Now, grab your family or friends and plan your jet ski adventure today!