Waverunner Tours in Panama City Beach Florida

Get ready for a WaveRunner rush! Our guided tour will take you on a trip to some of the most beautiful spots the Panama City Beach area has to offer. And getting there is half the fun!
Explore Shell Island
Play with Dolphins
Snorkel the Best Spots
See the Sights of St. Andrews State Park and Bay Area Wildlife
Speed across the water or go at your own pace.
Our experience guide will be with you the whole way to ensure you get the most out of your experience and get to see the best sights.
Enjoying a WaveRunner tour is easy and gives your entire group a chance to get out on the water in style. To maximize your enjoyment, we have the following available for purchase onsite
Waterproof Camera
Snorkeling Equipment
Food and Drinks
For your convenience, we stock many of the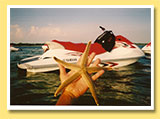 items you might need at our Panama City Marina store where your tour begins.
Our WaveRunner tours are 2 hours long and each WaveRunner can accommodate up to 2 people.
Book your WaveRunner tour online now and reserve your thrilling adventure today!
State of Florida Regulations: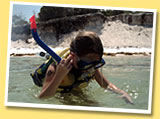 Anyone born on or after January 1, 1988 who operates a vessel powered by 10 horsepower or more must pass an approved boater safety course and have in his/her possession photographic identification and a boating safety education identification card issued by the Florida Fish and Wildlife Conservation Commission. At our Panama City marina, we offer a temporary Boater Safety certificate that is good for an entire year, for only $3.
If you would like to get a permanent card before you come to town, you can get one online at www.boat-ed.com. Please call us if you have any questions, (850) 235- 0009.
---
Book Waverunner Tours in Panama City Beach Florida
(Prices may vary on holidays/etc when selecting a date)