Panama City Beach Jet Ski Rentals
Jet Ski Rentals from Adventures at Sea is a great family-friendly experience the kids will love. You don't have to race across the waves or be a daredevil to have a good time. Just being out on the water and enjoying the view can be thrilling all by itself. Bring along the camera to capture what you see.
Jet Ski Rentals:
1/2 hour & full hour Jet Ski rentals available
Cut loose on one our powerful Yamaha VX-Sport and hit the waves at your disposal. Come out and explore!
Our Jet Skis Rentals are conveniently positioned behind major resorts and key locations all along "The World's Most Beautiful Beaches."
Please call for availability and locations in advance prior to booking.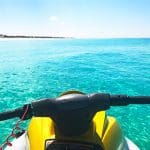 Our machines are top of the line and our experienced and professional staff will make sure you can feel like experts on the water.
Our units can safely accommodate up 400 lbs. and feature a full array of safety features. A kill cord will ensure the machine stops if you fall off and mandatory life jackets will keep you safely afloat until you can easily hop back on.
PLEASE, CALL AHEAD TO MAKE SURE YOUNG CHILDREN ARE THE RIGHT SIZE TO JOIN YOU ON THE JETSKI.
Marina Location: 5709 N Lagoon Dr, Panama City Beach, FL 32408

Our locations
You can reserve your session online in advance by booking now to ensure the best times. It's simple, safe and fun!
Florida State Regulations:
Anyone born on or after January 1, 1988 who operates a vessel powered by 10 horsepower or more must pass an approved boater safety course and have in his/her possession photographic identification and a boating safety education identification card issued by the Florida Fish and Wildlife Conservation Commission. If you would like to receive the card, you can take the online test at our Marina, at our beach locations or online at FLORIDA BOATERS TEST
16 is the minimum driving age at Adventures At Sea.
ALL Driver's will need to bring their picture ID'S with them.
Attention Kids 5 years of age and under will not be able to participate in Jet ski rentals
Where to rent jet skis in PCB, FL?
Best place to rent jet skis in Panama City Beach, Florida. Adventures at sea has some of the best prices for jet skiing.
How much does Jet ski rentals cost in Panama City Beach, Florida?
Prices vary depending on type of rental you choose.
How old do you have to be to rent a jet ski in Panama City Beach?
You must be 18 years of age to rent Jet Skis in Panama City.
How old do you have to be to drive a jet ski in Panama City Beach?
16 years of age to drive one of Adventures at Sea's jet skis.