Pontoon Boat Rentals in Panama City Beach
How much does it cost to rent a pontoon boat?
Accommodations for Pontoon Boat Rentals to Shell Island in Panama City Beach, Florida. When renting from us here at Adventures at sea you have many different options to choose from.
Full day Boat Rentals
Half day Boat Rentals
Standard Pontoons
Double Decker Pontoons
We are located at 5709 N. Lagoon Drive near shell island in Panama City Beach, Florida.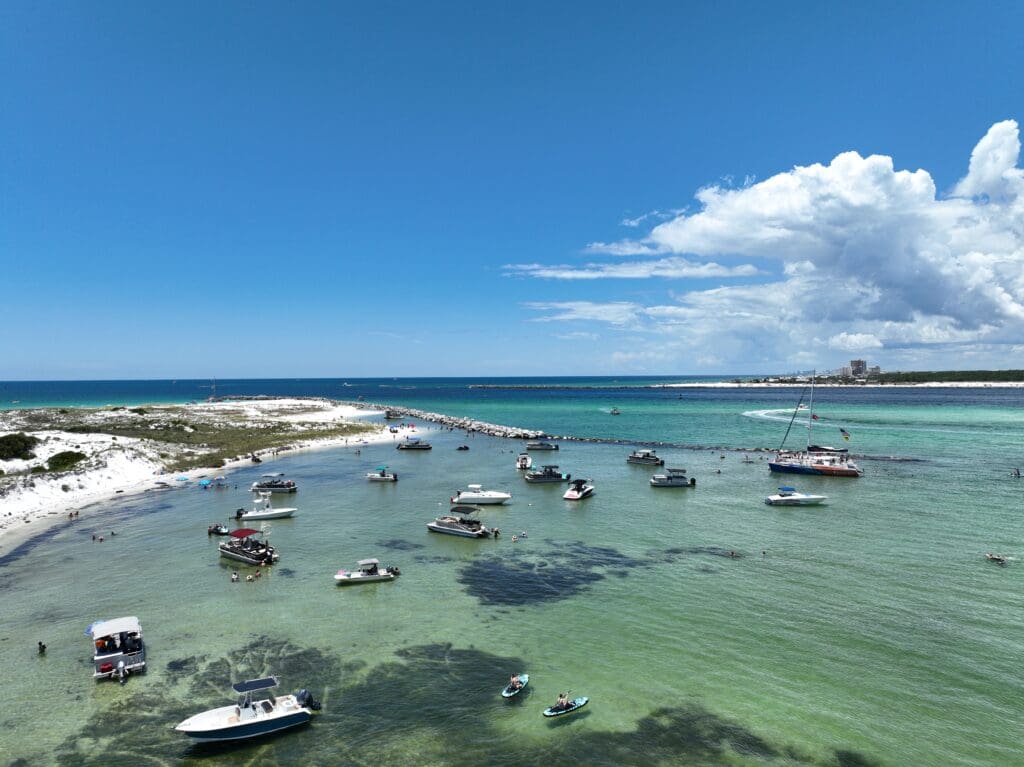 Best Place to Come Rent a Pontoon Boat to shell island
Experience the freedom of exploring Panama City Beach's most scenic areas while being your own captain on your own pontoon boat rental from Adventures at Sea. Our fleet of modern, comfortable boats is the best way to get on the water with family and friends to enjoy a day filled with memories. Our pontoon boats can accommodate up to max 10 passengers equaling no more than 1600 lbs so there's plenty of room to stretch out, social distance, and bring the whole gang, including pets.
Explore Shell Island with our Pontoon Boats
Explore the seven-mile long uninhabited island of wilderness which is like your own tropical paradise. You'll encounter unique wildlife, pristine sands, unimaginably clear waters and of course, plenty of shells to bring back as souvenirs. Also, it's only accessible by boat and a pontoon is the boat of choice for seeing it. Read more about this local treasure here.
Discover Underwater Thrills with our boat rentals
Firstly, bring your snorkel gear and hop in the water whenever you want. Secondly, if you do not have any available we have snorkel gear, water proof cameras and much more available on site for sale. Thirdly, throw out the anchor only a few feet from the shore and start exploring. The choice is yours, whenever you like, and we can help guide you to the best locations.
Pontoon Boat Rentals to See the Dolphins
Our resident population of wild dolphins are always friendly and always curious. Have your cameras ready and don't be surprised to see them follow your boat! They love to play.
Go Fishing on our premier pontoon boats
You'll find a wide variety of game fish in St. Andrews Bay and the surrounding waters while you're out. Drop a line. You never know what you're going to catch.
Find a Secluded Shore on your private party barge
Exploring the area by pontoon boats opens the door to endless opportunities to find your own private nook. Break out the picnic basket. Load up the coolers. You'll have no trouble finding the perfect spot. They're everywhere.
Rent a pontoon boat to See the Sights of Shell Island
Push the throttle forward and enjoy the ride. Make sure you don't forget your camera. No matter where you cruise, there's a photo opportunity waiting to happen. Experiencing a day on one of our pontoon boats is easy. We'll supply all the instruction and guidance you need prior to departure including a map and key points of interest. Because driving the boat is simple, and fun! All of our boats are supplied with the latest in safety equipment and regularly inspected so all you need to worry about is enjoying the day.
Booking your pontoon boat
Book your Adventure early as our pontoons are in high demand. Once you go out, you'll see why. Because this will also allow for rescheduling later during your stay in case of inclement weather so you won't miss out on the experience. Also for your convenience you can reserve online now simply by clicking below. When booking please make sure you have chosen the right date on calendar: Our pontoon boat rentals are located at 5709 N. Lagoon Drive Panama City Beach, Florida 32408 nearby shell island.
"Book your Pontoon boat rentals to shell island in PCB, Florida"
---
Half Day Pontoon Boat Rental
Prices starting at $179.00
Accommodates up to 10 passengers, no more than 1600 lbs
Fuel is included
Prices and times can vary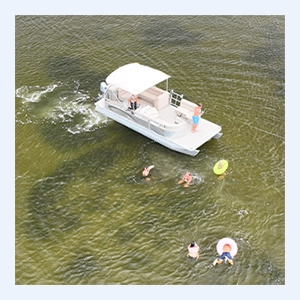 ---
Full Day Pontoon Boat Rental
Prices starting at $249.00
Accommodates up to 10 passengers, no more than 1600 lbs
Fuel is included
Prices and times can vary
Florida State Regulations
Driver information: Anyone born on or after January 1, 1988 who operates a vessel powered by 10 horsepower or more must pass an approved boater safety course and have in his/her possession photographic identification and a boating safety education certificate issued by the Florida Fish and Wildlife Conservation Commission. If you would like to obtain the certificate, you can take the test online.
***Please note that Coast Guard regulates that all ages count as a passenger. That includes children of all ages including infants.*** Once you leave our docks, your options are plentiful and include:
"Rent our new Double Decker pontoon boats with slides"
---
Double Decker – Half Day Boat Rental
Prices starting at $299.00
Accommodates up to 12 passengers, no more than 2000 lbs
Fuel is included
Prices and times can vary
Information on Nearby Pontoon Boat Rentals
Frequently Asked Question's
Adventures at Sea's Pontoon Boat Rental Location
Located at 5709 N Lagoon Drive Panama City Beach, Florida 32408
View More FAQ'S about boat rentals in PCB, FL
How old do you have to be to rent a pontoon boat?
You must be 18 years of age with valid photo ID
What's the minimum age for renting a pontoon boat?
You must be 18 to legally rent any watercraft in Florida. Any age can go along for the ride.
What are the attractions of renting a pontoon?
Once you leave the dock, our world-class playground is yours to explore. You can choose to do whatever you wish during your day on the water. A pontoon boat is the perfect way for friends and family to experience the best activities including:

Visiting Shell Island
Snorkeling in the shallow grass flats
Visiting waterfront bars and restaurants
Playing with our friendly dolphins
Fishing for trophy game fish
Finding your own private beach
Visiting St. Andrew's State Park

You're the captain so "go with the flow" and do as much or as little as you like. Whatever you decide, you wont regret your time on the water. Our pontoons are just as popular with the locals as they are for our visiting guests for all of the reasons mentioned above.
Can you rent a boat to go to shell island?
Yes you can rent a pontoon boat to take to shell island. We offer full and half day boat rentals. Find information on booking your pontoon boat today.
How much does it cost to rent a boat in Panama City Beach?
Price's range from 399.00 to 299.00 for our full day pontoon boats.
How do I reserve a pontoon boat?
Our online reservation system makes it quick and easy to reserve your pontoon adventure. You can book here, call us at (850) 235-0009, or come see us in person at our Grand Lagoon location on Thomas Drive.
What's included in your pontoon boat rentals?
All of our boats are fully equipped with USCG safety equipment and retractable Bimini tops to help keep you in the shade if you want. We also include a map of the area and helpful tips to make your day on the water an adventure you won't forget.
How many people can your pontoon boats hold?
Bring the whole gang! All of our pontoon boats can hold up to max 10 people equaling 1,500 lbs which makes them a great way for your entire group to spend the day together. If you have more, consider getting two boats. Our pontoon boats are a great value!
Are pontoon boats safe for kids?
Yes. Our pontoons are safe for everyone, including pets! You'll find all of our pontoons are fully loaded with USCG safety equipment and offer an extremely smooth and stable ride. Kids love this adventure and will enjoy helping you drive, seeing the dolphins, finding starfish and collecting shells for souvenirs.
Do I need previous boating experience to operate a pontoon boat?
Not at all. Our pontoons are easy to operate and safe. We'll give you a quick rundown of all the USCG safety equipment on board as well as a map of the area and some secret insider tips on the best locations. If you can tell forward from reverse, you'll do just fine driving a pontoon. The kids will love helping, too!
What should we bring?
Depends on what you want to do. Some suggestions include:

Towels
Coolers loaded with your favorite Beverages
Snorkel Gear
Fishing Gear
Camera
Sunscreen
Beach chairs and umbrella
What is the cancellation policy?
We understand that vacations may be cut short due to inclement weather. We guarantee a 100% refund if it is requested at least 24 hours in advance. Cancellations made the day of, or later, will result in a 7% processing fee deducted from the refund amount.

We are very flexible with rental days and time slots. Therefore, if there is any need to change dates or times, please give our office a call and we will do so as long as no price difference.