Top-Rated Pontoon Boat Rentals in Panama City Beach – Explore Shell Island
Welcome to Adventures at Sea, your premier destination for Boat Rentals in Panama City beach! "Shell island" this tropical paradise is the perfect backdrop for your next adventure, and our top-notch boat rental services are here to provide you with an experience second to none. Picture yourself cruising along the crystal clear waters, basked in sunshine, feeling the ocean breeze in your hair, all made possible by our quality pontoon boats. There's no better place than Adventures at Sea to explore Shell Island.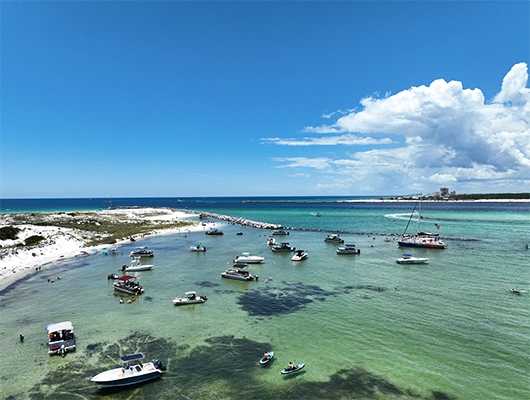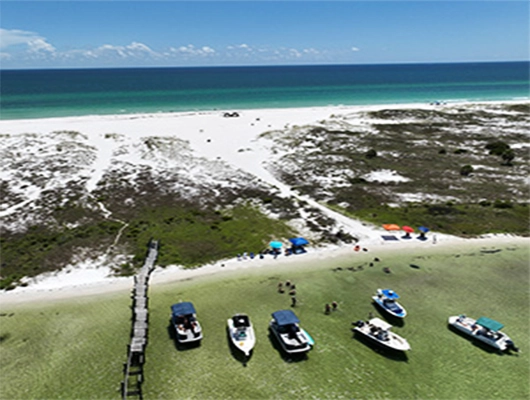 Why Choose Adventures at Sea for Pontoon Boat Rentals? Family Fun For Everyone
For an unforgettable beach adventure with your family, our Panama City Beach Boat Rentals are a must. Choose Adventures at Sea for your pontoon boat rental needs. Wondering why? We're not just another boat service, we're your one-stop destination for a fantastic fun day on the water. Our pontoon rentals service is unmatched in quality, comfort and customer satisfaction. What's more, Adventures at Sea doesn't just offer the best boat rental services in Panama City Beach – we offer great adventures tailored to your family's taste and top-of-the-line pontoon boat rentals.
Affordable Pontoon Boat Rentals In Panama City Beach
Discover the many reasons to choose us for your next pontoon rental experience.
Prime Location near Shell Island
Diverse and Versatile Fleet Selection
Competitive Full and Half-day rental rates
Safety First: Our boats come equipped with the latest safety equipment, and each is regularly inspected for piece of mind.
Online Booking: Effortless online reservation for your next pontoon adventure, ensuring you never miss out due to high demand.
Visit us at our prime location: Conveniently located at 5709 N. Lagoon Drive, Panama City Beach, just a stone's throw away from mesmerizing shell island. Making us the top choice for your Panama City Beach boat rentals.
Pontoon Boat Rental: Best Prices, Options & Availability
With competitive prices, flexible rental options, and incredible availability, our pontoon boats are to much fun. At Adventures at Sea, we offer an wide variety of pontoon boats for rent. From half-day boat rentals to full day rentals, we have it all. And the best part. You're the boats captain for the day!
Discover Shell Island on a Classic Standard Pontoon Boat
Half Day Rental Rates
Accommodates up to 10 passengers, no more than 1600 lbs
Fuel is included
Explore Panama City Beach on a Classic Standard Pontoon Boat
Full Day Rental Rates
Accommodates up to 10 passengers, no more than 1600 lbs
Fuel is included
Local's Top Choice for Boat Rentals: Adventures at Sea
Looking for top-rated boat rentals in Panama City Beach? Look no further than Adventures at Sea. We specialize in providing an unparalleled pontoon boat experience. When you choose Adventures at Sea, you're choosing quality, affordability, and an unforgettable family adventure. Discover stunning Shell Island near Panama City Beach with the freedom of being your own captain on a pontoon boat rental with Adventures at Sea.
Discover the Underwater Thrills – Book Online
With our pontoons, you can discover underwater thrills! Our boat options are unbeatable. You can rent a boat for a full or half day. The fun awaits in the crystal clear waters near Shell Island. With our boats, you're guaranteed the best boat rentals. So, why wait? Rent a boat now and let the adventure begin.
Booking Boat Rentals With Adventures at Sea
Book your Adventure early as our pontoons are in high demand. For your convenience you can reserve online now. When booking please make sure you have chosen the right date on calendar: Our pontoon boat rentals are located at 5709 N. Lagoon Drive Panama City Beach, Florida 32408.
Florida State Regulations:
Pontoon Boat Rentals: Driver information for Rental Pontoon: Anyone born on or after January 1, 1988 who operates a vessel powered by 10 horsepower or more must pass an approved boater safety course and have in his/her possession photographic identification and a boating safety education certificate issued by the Florida Fish and Wildlife Conservation Commission. If you would like to obtain the certificate, you can take the test online.
Please note that Coast Guard regulates that all ages count as a passenger.
That includes children of all ages including infants.
Classic Pontoons can accommodate up to 10 passengers, max capacity 1600lbs
Double Decker Pontoons can accommodate up to 12 passengers, max capacity 2000lbs
If you're looking for great boat rentals, consider upgrading your boating experience with our Double Decker pontoon boats. With Adventures at Sea, renting pontoon boats is not just a service, it an opportunity to make your day unforgettable. Our pontoon boats are specially designed for guests who want to add a dash of excitement to their beach day. Number one rentals pontoon "Party Boat"
Double-Decker Pontoon: The Ultimate Experience
Ready to upgrade your fun day on the water? Adventures at Sea offers a premium option to rent our double-decker pontoon boats. A step up from our regular pontoon boat rentals, our double deck boat ensures twice the fun! Available for both half and full day rentals, these boats provide incredible water views.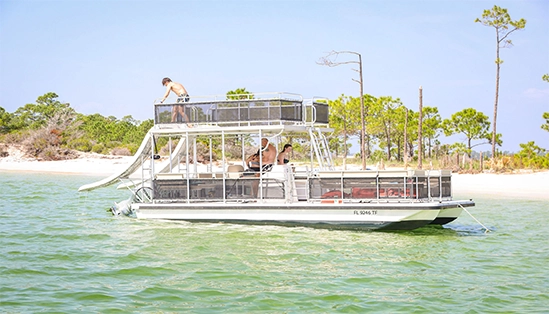 Double Decker Pontoons
Half Day Rental Rates
Accommodates up to 12 passengers, no more than 2000 lbs
Fuel is included
Adventures at Sea Your Premier Boat Rental Destination
Ready for an adventure? We've got boat rentals at 5709 N Lagoon Drive, Panama City, Florida 32408. Our marina boat rental service with day rentals, perfect for family fun. Rent a pontoon boat or upgrade to our double decker pontoon. Come join us in Panama City to explore shell island, bring your family, friends and be the captain. An unforgettable island adventure awaits at Adventures at Sea! Visit Us at 5709 N Lagoon Drive, Panama City Beach, Florida 32408.
Frequently Asked Questions:
Are you searching for Boat Rentals near my location? Adventures at sea is the right place to be for boat rentals. Renting a boat should be fun, and whether it's a pontoon boat or our Double decker deck boat, we've got you covered. Find more information on nearby boat rentals in Panama City Beach.
View More FAQ'S on Boat Rentals in PCB, FL
How old do you have to be to rent a pontoon boat?
You must be 18 years of age with valid photo ID
How much does it cost to rent a boat in Panama City Beach?
Price's range from 399.00 to 299.00 for our full day pontoon boats.
Cancelation Policy for Boat Rentals
What is the cancellation policy?
We understand that vacations may be cut short due to inclement weather. We guarantee a 100% refund if it is requested at least 24 hours in advance. Cancellations made the day of, or later, will result in a 7% processing fee deducted from the refund amount.

We are very flexible with rental days and time slots. Therefore, if there is any need to change dates or times, please give our office a call and we will do so as long as no price difference.
Learn more About Us "Adventures at Sea"
Visit Adventure at Sea on our Social Pages
Ready for fun on the water? Our full day pontoon boat rental in Panama City Beach are idea for people seeking adventure to Shell Island. A Full day rental is Top Choice
Book Now Premium Full Day
Premium pontoon boat for a full day rental from 9:00am-5:00pm. Our boat rental allows fun for family and friends. Best "Shell Island Day Trip"
Reserve a Double Decker Full Day
Looking for the ultimate boating adventure? Our marina boat services offers, Double Decker – Full Day Rental. Top pick among boat rentals.