No trip to the Gulf Coast of Florida is complete without taking the time to explore the area around Shell Island. From seeing the sites of St. Andrews Bay and then snorkeling in the shallows, to seeing a school of wild dolphins in their natural habitat and then finding your own slice of beach paradise, the cruises offered by Adventures at Sea are quite simply the best offered anywhere in Panama City Beach.
What happens on the tour? 
To start off your tour, our guides will show you the beauty of Shell Island. This 7 mile stretch of undeveloped paradise is a barrier island that runs east to west between the Gulf of Mexico and St. Andrews Bay. This is Florida at its most natural, far away from the theme parks and resorts. Shell Island is a home for endangered species like loggerhead sea turtles and piping plovers, and is known for the abundance of beautiful shells that are found on the beaches.
Our Adventures At Sea guides will then tour around the waters of Shell Island to show you the home of one of the largest schools of bottlenose dolphins in the world. We know all their favorite places to hide—and the places where they love to show off.
The shallows around Shell Island and St. Andrews Bay are exquisite, and if you've brought your snorkeling gear, you will see some amazing sights in the clear water of the Gulf. Bring an underwater camera, and bring home snapshots that your friends will actually sit down to see.
What kinds of tours does Adventures at Sea offer? 
Unlike other companies, Adventures at Sea offers two different types of water based tours. For the more adventurous, the Waverunner Tour is a must-have experience. Our guide will show you all the sights of the bay, but you'll get to set the pace. Whether you want a slow and luxurious trip, or a race over the waves, we'll make sure you get to Shell Island and back, safe and sound.
We do everything we can to make sure the Waverunner tour is safe and comfortable for you, including:
providing any necessary instruction on how to operate a Waverunner
storing your necessities in DRY compartments on the Waverunner (though we don't advise bringing anything valuable that could be lost or damaged by being wet, just in case)
offering items like snorkeling gear, waterproof cameras, and food and drinks for sale at the marina, before we depart on the tour.
Each Waverunner carries a passenger and a pilot.
If you're traveling with people who would be uncomfortable on a Waverunner, we also offer boat tours. Our dock is fully accessible, so everyone can enjoy the beauty of the water. Each boat can carry six passengers, but we're happy to bring multiple boats on a tour to accommodate your entire party. Just like with the Waverunner tour, we'll proceed at your speed, making sure that we see everything you want to see.
Some common questions we get asked at Adventures at Sea: 
Which type of trip is better for me and my group? 
That's really up to you. The boat tour is often better for those traveling with young kids, or those with more limited mobility, but it really depends on you. If you're not sure if your group would do better on Waverunners or boats, give us a call, and we'll help you decide what would be best.
Will I see dolphins? 
Because we are exploring the dolphins' natural habitat, it's always possible that we won't be able to find where the dolphins are playing today. However, our guides have been doing this for years, and know all the places the dolphins love to be. Virtually all of our tours encounter at least a few of the dolphins that make up the largest population of wild dolphins in the world.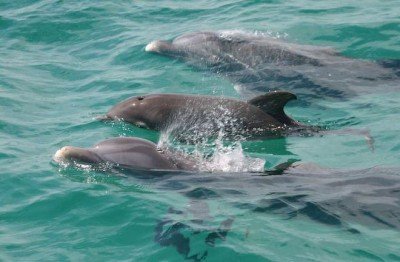 Can we explore Shell Island? 
We encourage it. Whether you're traveling solo and want a peaceful moment at this uninhabited slice of paradise, cruising with your special someone and hoping to have a few romantic moments alone, or exploring with your family and wanting to search for souvenir seashells and sand dollars, our guides know all the best spots to visit.
Whether you know exactly what you want to see and do, or just know you want a day out on the open water, the guides at Adventures at Sea can help you explore the gorgeous ocean that surrounds Panama City Beach. Each tour is approximately two hours long. Book online today and reserve what is sure to be the most beautiful and exciting part of your Florida Gulf vacation.