There's nothing like a family friendly vacation. Spending quality time with your kids creates amazing memories, great pictures, and a lot of fun. But if you're not careful with the kinds of attractions and events you plan, kids can end up overwhelmed—or worse, bored.
Plan your Panama City Beach vacation so that your kids have just as much fun as you do, keep everyone happy, and head home with some excellent new stories to tell. Here are our favorite locations in Panama City Beach, guaranteed do-not-miss for the whole family!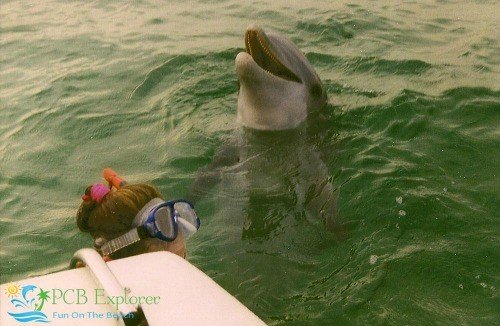 There are plenty of excellent adventures to be had on land in Panama City Beach, but no Florida Gulf visit is complete without getting out on the open water. With Adventures at Sea boat cruises, families can relax and let the crew take care of all the hard work. Whether you're hoping to see wild dolphins, snorkel in gorgeously clear waters, or explore Shell Island, Adventures at Sea will help make it happen.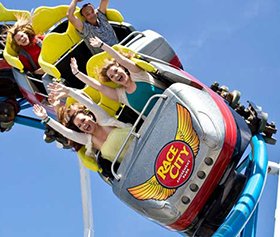 A great way to spend a few hours with the whole family! Race City is one of Panama City Beach's most family-friendly attractions located on Front Beach Road. Home to the famous Hurricane Rollercoaster, which stands at over 50ft. tall, and reaches speeds up to 30mph! Race City also has 4 unique and exciting Go Cart tracks, indoor Mini Golf, Bumper Boats, a huge indoor Arcade, and thrill rides that are perfect for toddlers to teens. Free parking and admission year-round/ Plus, look out for the Unlimited Armbands offering the biggest bang-for-your-buck.
Coconut Creek Family Fun Park is themed like a tropical island, complete with a lake stocked with native fish and cascading waterfalls. Kids can enjoy the Gran Maze—the size of a football field, the first of its kind in America!—and the whole family can compete at two different 18-hole Mini Golf courses. The park is open year round, and is free for kids under the age of 6.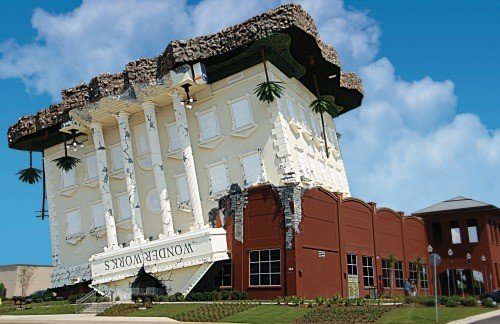 Called an Amusement Park For the Mind, Wonderworks contains 35000 square feet of "edutainment." The park features over 100 hands-on displays that encourage creativity, exploration, and entertainment. Several themed zones give kids and their families interesting areas to explore, whether the fascinating thing of the moment is space exploration, natural disasters, or light and sound. With laser tag and an indoor ropes course, this is a great place to visit when a vacation needs a day out of the sun.
From the "roller coast of the century," the Max Flight Simulator, to the Dragon Wagon kids only coaster, Cobra has something for everyone. The park also includes four levels of 9hp Go-Kart racing, a variety of coasters and rides, an arcade with all the latest games, and a pirate themed 18 hole Mini Golf course.
FUNLAND opened in 1953, making it the oldest arcade in northwest Florida and an absolute must-stop adventure. FUNLAND has more than 100 arcade games, and also serves breakfast, lunch, and dinner, so whether you're looking for a cup of coffee before heading to the beach, or a quick dinner before turning in for the night, this is the place to be. FUNLAND also offers birthday packages.
Need to get some putt time in, but the kids are insistent they need to play? Goofy Golf is the solution. A combination play area and 18 hole Mini Golf course, kids love the experience. Climb statues to get a great view, hide inside others to get out of the sun, and keep the entire day under par. At night, enjoy the glowing eyes in giant dinosaurs and monkeys!
Even on your tropical vacation, it's possible to need a day out of the sun; Ripley's Believe It Or Not keeps everyone entertained, even when you need to stay cool and dry. Attractions a family won't find anywhere else include the Odditorium, where kids can see shrunken heads and an actual vampire killing kit, the Mirror Maze Challenge, a 7D Moving Theater, and the Impossible LaseRace. Before heading home, check out the Ripley's Retail Shop for some souvenirs that everyone will appreciate.
This waterpark offers many attractions, from the Ocean Motion Wave Pool, generating 3 foot waves every 10 minutes, to the Pirate's Plunge Racing Slide, where riders can challenge their friends, or their own nerves, to the Great Shipwreck. Ever wanted to swing out from a pirate ship and drop feet first into a lagoon pool? Now you can! Park food is available for purchase, as well as sun protection products. The park also offers birthday party package.
The XD Darkride Experience is a thrilling interactive movie and immersive video game experience. It's a unique and fun attraction unlike anything else! Put us on top of your 'Things to do' list…