If you came to the Panama City area to experience the joys of "The World's Most Beautiful Beaches", then you owe it yourself to spend some time on the most beautiful beach of them all. Occupying a 7-mile stretch between the waters of St. Andrews Bay and Gulf of Mexico, Shell Island is an oasis of pristine wilderness far removed from the crowds and buildings you'll find elsewhere. In fact, there's nowhere else like it.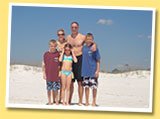 Visitors to the Shell Island regularly marvel at the whiteness of the sand, the richness of the emerald/blue colors and the clarity of the water that surrounds it. Many feel like they're lost on their own tropical paradise and spend an entire day sunbathing, snorkeling, shell hunting, picnicking and exploring without ever seeing another soul.
Shell Island is a protected natural preserve and part of St. Andrews State Park. It ranges in width from less than a mile at its widest point near the pass narrowing to 200 yards and less near its eastern point. It's uninhabited and undeveloped so the island maintains a timeless quality. You don't need a park pass to visit it, but you do need a way to get there. Pontoon boats, tour boats and wave runners are all popular options that will give you a taste of the island or let you explore on your own.
You'll probably run into some of our area's friendly wild dolphins on the way. The waters around the island are home to one of the largest concentrations of wild bottle-nose dolphins in the world. Once on the island, you'll be amazed at the number of sand dollars, conch shells, starfish and other treasures that constantly replenish along the Gulf shore. And keep an eye out for the unique underwater forest just offshore. The sea grass beds in the bay also teem with underwater life and make for entertaining snorkeling stops.
With wide-open expanses of sugar-fine sand, rolling natural dunes and palm-studded woodland, you'll have plenty to explore and plenty of room to find your own piece of paradise. Relax and enjoy the sunshine and imagine yourself lost in a tropical paradise right here in Panama City, because that's exactly where you'll be!
---
 What is Shell Island in Panama City Beach?
From marine wild life and sparkling waters, Shell Island (Panama City Island) is the only all inclusive area around. Be sure Take a cooler, a snack and above all- your camera! At Shell Island, you and your family can experience a wide range of fun Panama City attractions! This Panama City Island is about 1 mile long, and is filled with seashell souvenirs, wild dolphins, sea turtles, pretty scenery and much more!
Are you sure I'll see wild dolphins in Panama City Beach?
Wild dolphins are often seen in the shallow waters that surround the North side of Panama City Island. These dolphins are known for their friendliness and gentleness with people. They might even let you pet them! We offer Shell Island boat cruises and wave runner tours to get you close enough to see the dolphins playing and enjoying the warm blue water.
Absolutely! Saint Andrew's State Park is directly across from Shell Island, and right there is what the locals call "The Kiddy Pool". It's an area attached to the coast of Saint Andrew's State Park that is surrounded by boulders sunk in the water to provide safety from boats. The water is shallow, so bring your gear on our Panama City tours and let's go snorkeling!
---