How much does it cost to go snorkeling in Panama city beach FL Cost?
Go snorkeling around Jetties at shell island in Panama city Beach Florida.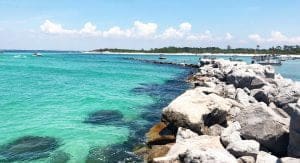 3 Hour Snorkel Packages:
There are dozens of amazing things to do in Panama City Beach. From dolphin tours to Jet Ski explorations, there's something for everyone on Florida's Emerald Coast. But if you want to truly experience the luxurious, unique sensation of floating in crystal clear water, staring down at the wildlife that makes the Gulf Coast the gorgeous experience that it is, you need to try out a snorkeling trip in Panama City Beach.
Snorkeling is a fantastic way to see what lies on the bottom of the ocean around our coastline. Unlike more involved SCUBA diving, you don't need any special training to snorkel. If you can swim, you can relax and enjoy the view.
In Panama City Beach, we have the luxury of being right next to St. Andrew's State Park, which is considered to be some of the best snorkeling on the coast.
The glorious feeling of floating in the dense, salty water of the ocean without the artificial boundary of a boat or Jet Ski is easy to achieve. We'll help you make it happen. We'll take care of the equipment you need, or you can bring your own. You can also pack snacks and beverages to make your time on the boat more comfortable.
Whether you have a unique proposal plan, are excited to see the natural Florida wildlife, or want some exquisite underwater photos for your holiday cards, Adventures at Sea will help you make it happen. Call us today, or book your special snorkeling trip in Panama City Beach online today!
Call and talk with our experts! (850) 235-0009
Accommodation Up To 6 Passengers per Boat: