Dolphin Tours in Panama City Beach, Florida
Dolphin Tours & Snorkel Tours in the beautiful Gulf of Mexico are always memorable. On our tours we will take you to the island and get you as close as possible to the dolphins for a close and unforgettable experience. While on our tours we will stop on the island for snorkeling and shelling exploration.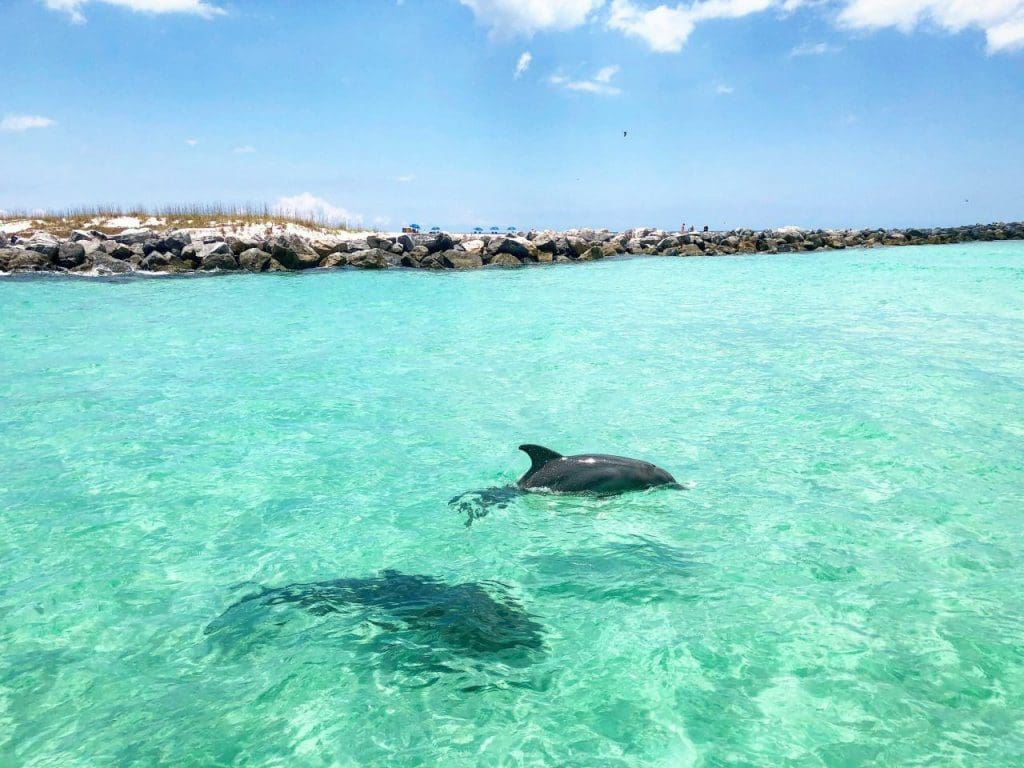 Wild Dolphin Tours:
Dolphins are a loose grouping of different aquatic mammals that live all over the world. In Florida, the most common dolphin is the bottlenose dolphin. The iconic grey dolphin that Flipper made famous. For many years, Americans were used to see dolphins perform tricks for fish at various marine attractions around the country. But in recent years, more protections have been put in place around wild dolphins.
When we take visitors and locals on dolphin tours in Panama City Beach. Also one of our number one priority is to make sure that the dolphins aren't disturbed as they go about their day. That said, we know all the places where schools of dolphins like to congregate, and we'll take you all around the beautiful Gulf of Mexico so that you can see these beautiful dolphins enjoying their natural habitat.
A dolphin tour is fun for all Panama City Beach visitors. If you're looking for a more adventurous ride, we can take Waverunners on our journey. If you have young kids or members of your party that just want to kick back and relax, our tour boats can make sure that everyone rides in comfort as we search out wild dolphins. Also you can take pictures, video, and make sure that your trip is one to remember!
Enjoying a WaveRunner tour is easy and gives your entire group a chance to get out on the water in style. To maximize your enjoyment, we have the following available for purchase onsite as well as online:
Waterproof Camera
Snorkeling Equipment
Sunglass Straps
Waterproof Cell Phone Case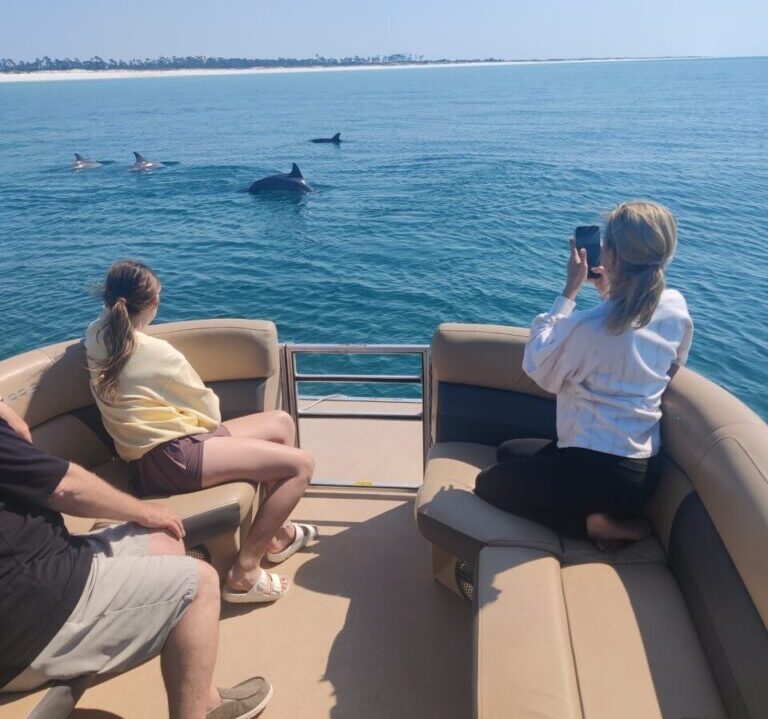 Your trip will be personally customized to ensure you get to experience the best tour available.
Swim with Dolphins
Explore Shell Island
Snorkel the Shallow Waters
Enjoy the Sights of St. Andrews Bay
Tour the Gulf of Mexico
We do need to note that dolphins are wild animals. Although we know all the places they're likely to be, very rarely the dolphins evade us. When you book your tour with Adventures at Sea, whether you want to be close to the water or relax on the deck of our pontoon boats. We'll do everything possible to make sure you don't miss this iconic piece of Florida's natural landscape. Contact us today to book your date!
Give us a call for more information! (850) 235-0009
Book your Dolphin tours Today with Adventures At Sea