Sandpiper Beacon in Panama City Beach Florida
25% Off Coupon for Guest of Sandpiper Beacon
Use the coupon code: "Sandpiper" on our website checkout
You must present a Sandpiper Beacon room key at your reservation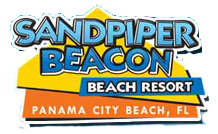 Parasailing in Panama City Beach is quite the experience if you've never tried it. Those of you that have parasailed, know what we're talking about. Try riding Banana Boats if you like cruising through the water while it splashes all over you. If you just want to relax for the day, keep in mind we also have Lounge Chairs available daily!
Amenities at Sandpiper Beacon
Sandpiper has a majority of unique amenities not included at any condo, hotel, or resort located on Panama City Beach. The Lazy River Ride, Inflatable Waterslide, and Turbo Waterslide are just a few. Another amenity that makes Sandpiper unique is the fun 6-hole mini golf course right at the hotel. Also included are the childrens playground, family karaoke, and live music and bands.